Home
>
MX Player
>
Raktanchal Season 2 MX Player Web Series (2022) Full Episodes Online | Cast | Release
Raktanchal Season 2 MX Player Web Series (2022) Full Episodes Online | Cast | Release
Raktanchal Season 2 MX Player Web Series (2022) Full Episodes Online | Cast | Release
Raktanchal Season 2 MX Player Web Series (2022) Full Episodes Online | Cast | Release: Raktanchal Season 2 Episodes Online: MX player brings the most awaited political thriller series Raktanchal. After the blockbuster hit of season 1, it brings new episodes with a stellar cast and revamped plot with twists and turns.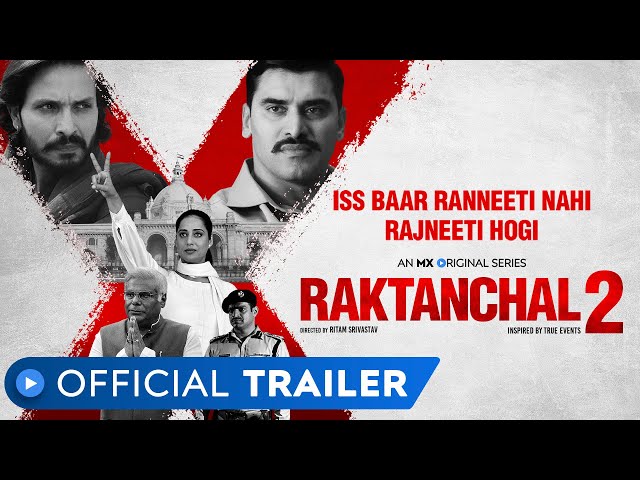 Raktanchal Web Series Season 2 is directed by Ritam Srivastav. It stars Nikitin Dheer, Kranti Prakash Jha, Karan Patel, Soundarya Sharma in prominent roles. Watch all the latest episodes of Raktanchal Season 2 episodes in MX Player on February 11, 2022.
WATCH RAKTANCHAL SEASON 2 WEB SERIES EPISODES ON MX PLAYER
The story takes you to politics between the groups with casteism, racial discrimination against people in the village of Uttar Pradesh. The plot of the series is inspired by true events.
Watch and download all the latest episodes of Raktanchal Season 2 web series on MX player for free.
Related: Campus Diaries
Raktanchal Season 2 Cast
Take a look at the complete cast list of the upcoming Raktanchal Season 2 Hindi Web Series,
Nikitin Dheer as Waseem Khan
Kranti Prakash Jha
Mahie Gill
Ashish Vidyarthi
Karan Patel
Soundarya Sharma as Roli
Mukesh Bhatt
Vikram Kochhar
Ronjini Chakraborty
Basu Soni
Krishna Bisht
Chitranjan Tripathy
Raktanchal Season 2 Trailer
Watch the latest official trailer of Hindi web series Raktanchal Season 2,
Raktanchal Season 2 Details
Check out the full details of Raktanchal Season 2 Web Series 2022,
Name: Raktanchal Season 2 (2022)
Type: Web Series
OTT Streaming Platform: MX Player
Director: Ritam Srivastav
Cast: Nikitin Dheer, Mahie Gill, Soundarya Sharma
Streaming Date: February 11, 2022
Episodes: Yet to be updated
Language: Hindi